Linked Jazz Director Dr. Cristina Pattuelli has received a grant from the New Orleans Jazz and Heritage Foundation to support the development of a core linked open dataset representing Louisiana-based jazz artists.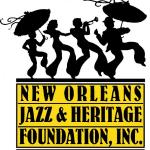 The work will be undertaken by the Linked Jazz team in collaboration with the Tulane University Digital Library, a unit of the Howard-Tilton Memorial Library of Tulane University, and will include resources from the Hogan Jazz Archives.
This is an exciting opportunity to expand the research of the Linked Jazz Project to the rich history and connections of the New Orleans jazz community.