Linked Jazz Network Visualization Tool
The Linked Jazz Network Visualization Tool is web-based visualization tool that offers multiple interactive views of the network of jazz musicians based on our LOD dataset. This tool runs on a browser and allows the user to choose different views of the social network and to create a customized dynamic network of selected individuals. It also displays images, videos, and short biographies of jazz musicians within the network.

Linked Jazz 52nd Street is a crowdsourcing tool that allows jazz experts and enthusiasts to assist us in deciding what type of relationship two individuals share based on interview transcripts. While we can assume that jazz artists who cite other jazz artists in their interviews have some kind of association with them, this relationship could be anything from close friendship and collaboration to just knowing the other person exists. Linked Jazz 52nd Street addresses this problem. This tool is a web-based application that asks contributors to classify the relationship between two jazz artists according to a menu of options. This assessment is facilitated by presenting the contributor with interview excerpts referencing the individuals in question. Results are tallied and converted into RDF statements that feed the project's LOD dataset.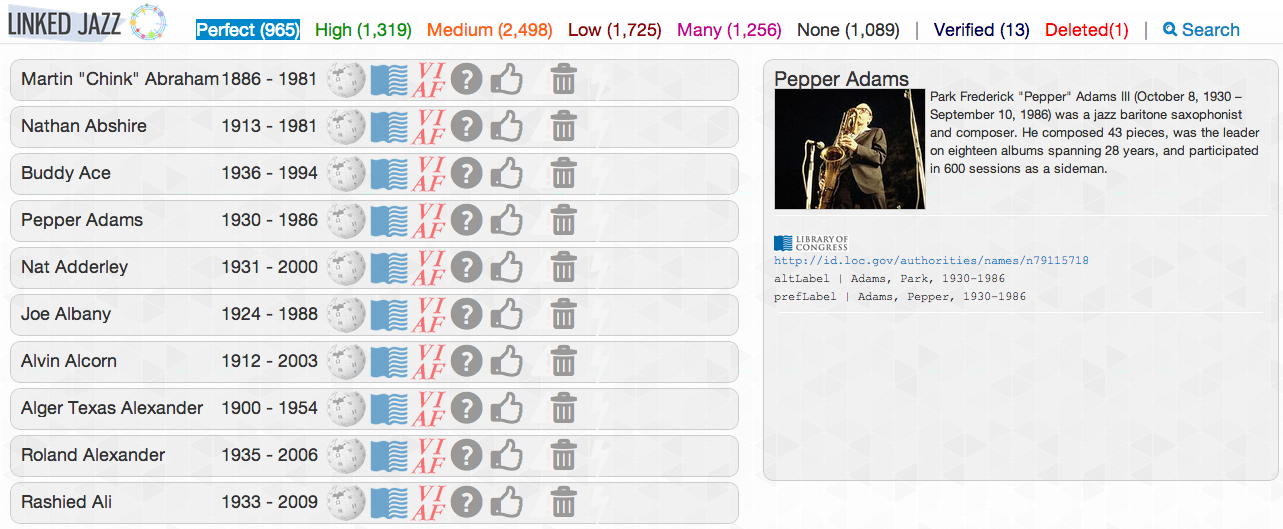 The Name Mapping and Curator Tool was developed to support the creation of a directory of jazz artist personal names that was as extensive and accurate as possible. We started by creating an application which bootstraps names of jazz artists from DBpedia and then maps individuals' URIs onto the Library of Congress Name Authority File and VIAF to include preferred and alternate names.
To further refine the directory resulting from the mapping process, we developed the Curator, a user-friendly interface on the front end of a heavily automated process. This tool allows for human curation of the directory, including the approval, removal, and disambiguation of personal names.

The Linked Jazz Transcript Analyzer structures digital archival documents for different purposes and identifies named entities in texts. In the context of the project, we use the Analyzer to upload interview transcripts from open access archives and to identify personal names cited in interview transcripts by leveraging the above-mentioned Linked Jazz Name Directory. The analyzer also employs natural language processing to locate names that are not present in the directory. In these instances, we relate the newly found names to URIs from the name authority files, or, if the name is not found in the authorities, we mint new URIs that we then host on the Linked Jazz namespace. Finally, the analyzer tool breaks interview transcripts down into discrete segments of questions and answers, which are later employed in the Linked Jazz 52nd Street tool.